Hello
Music Lovers
We must admit that we never thought
that things could get so busy,
or that Carpe Musicam!
would ever be in such demand.
Last month our Boutique Band
put on a splendid and extremely well received performance at the Dotsure George Arts Theatre.
This was part of the theatre's
"Grand Ol' Dame" Festival.
The theatre was almost 75% full,
and standing ovations were the order of the day.
The theme was" In Love With the Grand Ol' Dame"
and featured romantic hits
from the last hundred years or so.
Norman Carless, our conductor,
was invited to play some trumpet fanfares
for a Matric class function at Mossel Bay Curro school. All figged up in period dress
he entertained the Matrics with fanfares,
and a version of Trumpet Voluntary
that is unlikely ever to be heard again!
Below he is seen receiving promotion from
"Herald" to "Ambassador"
from the "King",
local actor Frans Magal.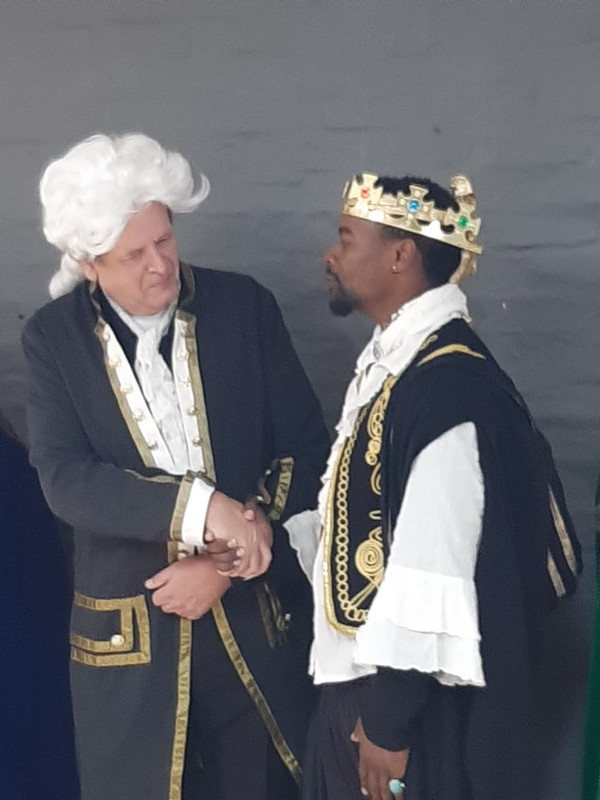 The CM! Trio –
Mariaan Basson – Clarinet,
Elsabe Barkhuizen – Piano
and
Norman on Flute,
entertained a rather large group of residents
of the Dana Bay Lifestyle Village
later that same day.
Once again, CM!'s quirky
and unique arrangements of popular items
brought the audience to their feet
– and inspired a few "Kleenex" moments
(for the right reasons, we might add.)
This last performance was such a success
that we would like to entertain
residents of complexes
similar to the
Dana Bay Lifestyle Village.
Contact Mariaan at 083 789 9400
to discuss times and dates.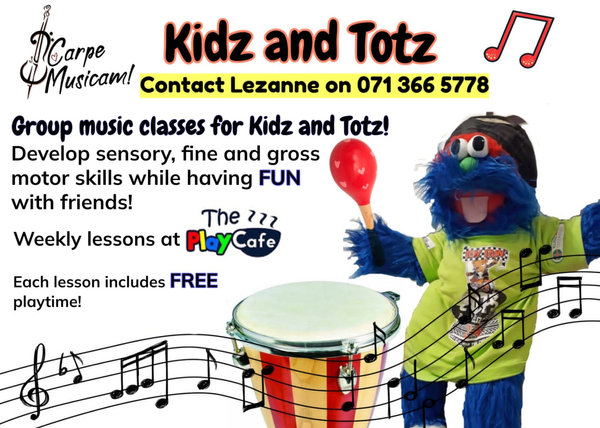 Lezanne's CM! Kidz 'n Totz
is going great guns with over 30 very young muso's enjoying her special approach to basic music education.
Saturday 9 April, saw a special event at the Play Cafe
(with a puppet show, and music by a CM! trio,)
being attended by, seemingly,
hundreds of potential "musician-lets".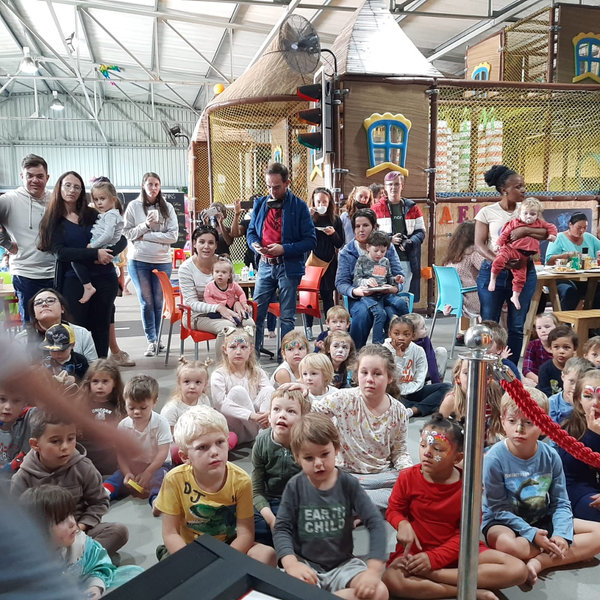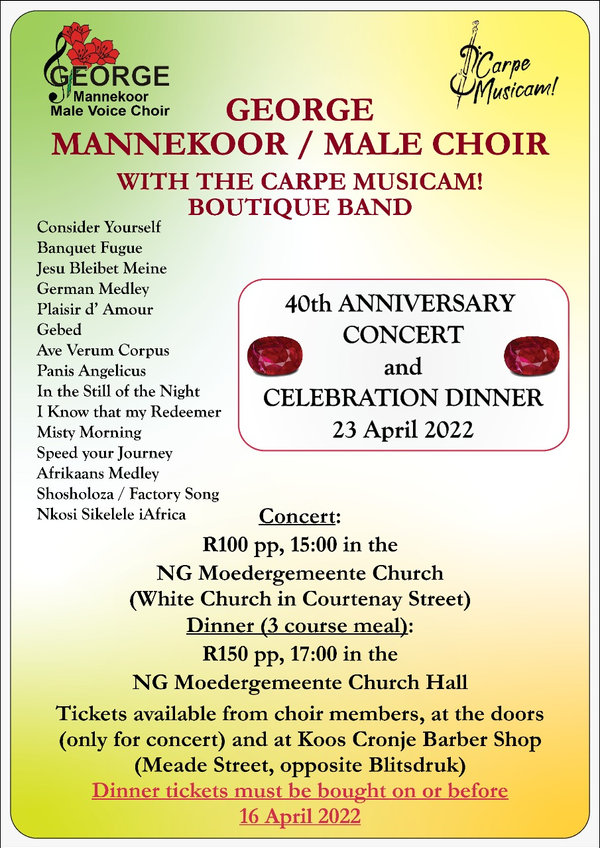 The George Male Choir
will be giving their 40 year Anniversary Concert
on 23 April,
and CM! will be there with them –
in a support role.
The sextet version of the Boutique Band
will be providing some instrumental accompaniments
to this august body,
which is part of
George's musical heritage.
Conductor Gideon Brits
has assembled a varied programme
of choral favourites,
and the choir is in fine voice –
if their performance at rehearsals is anything to go by.
More details can be obtained from
Gideon at 073 655 7292.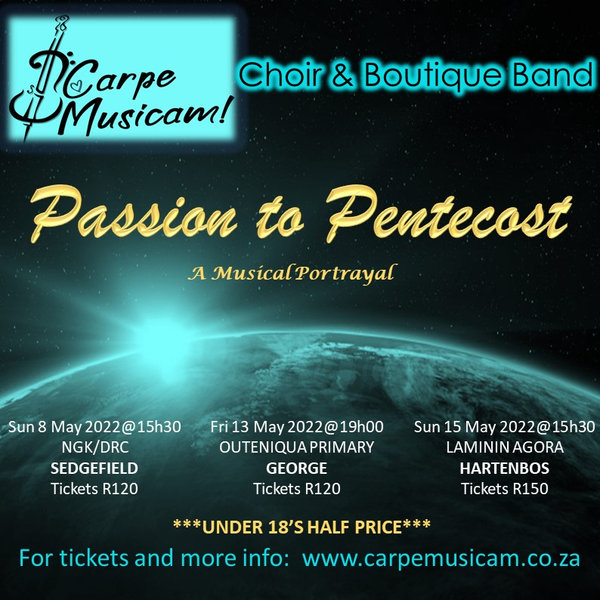 The big news, though,
is this year's "Passion to Pentecost" concerts.
This event,
which has become something of a CM! tradition,
tells the Easter story
by way of well-known choral and instrumental items. The re-born CM! Choir
now boasts in excess of 38 voices,
and will be accompanied by a 9-piece Boutique Band.
The concert will include a complete performance
of the four movements of Paul Barker's very popular, "MASS-ive."
– a pop-rock interpretation of the
Requiem Mass.
Performances of this inspirational show will be given in Sedgefield, George
and at
Laminin Agora Celebration Venue
just outside Hartenbos.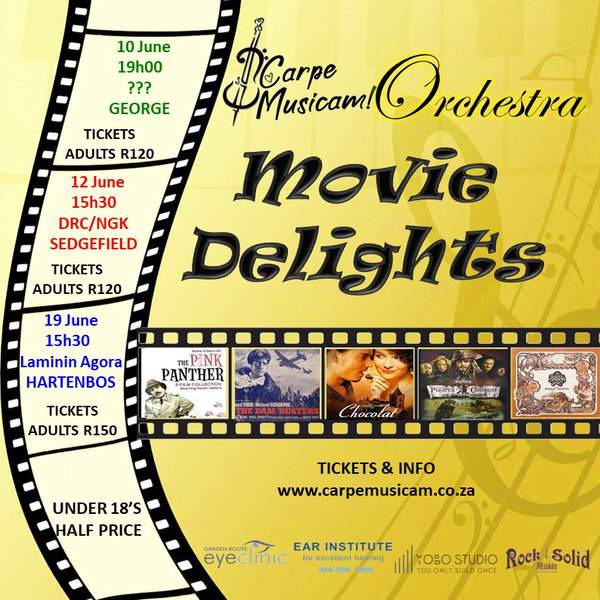 Stay tuned for more details of
June's "Movie Delights" concerts.
We are working very hard on this,
and it promises to be our best ever concert.
…… join the "Friends of Carpe Musicam!" for only R50 per month,
and attend ALL of our independent concerts
FREE OF CHARGE.
Stay Calm and Stay Healthy
and we'll see you at the music.